greygirlbeast
A very, very bad day yesterday. A day that should have been a Day Off, that, instead, became a Lost Day. I did leave the house, but it went very badly. Probably the worst day since this summer. The sky was too blue, too wide, and whatever it is that slams me did so. Fuck, it sounds silly writing about being freaked out by the sky. I know we live in the confessional, transparent age, and we wear our neuroses and infirmities on our sleeves, but I don't think I'll ever do such things with comfort and without shame.
More snow last night.
Today, I go back to work on
The Drowning Girl: A Memoir
. I have to try to get Chapter 5 written by the 24th, so I'll have time to switch over and get the digest written. More and more, I feel as if this will be the last book I write for an "adult" audience. Well, the last book I write for me in hopes that it will be
read
by an "adult" audience. It would be better, I know, to do the best I am permitted to do with the current novel (deadlines and finances permitting), then switch over to novels for young adults. I know now that I can do it. I've found the voice. And, now that I'm reading a fair amount of YA, I suspect that younger readers are more open readers. I am almost ready to say they seem like
smarter
readers. I'm starting to think that I would encounter less stress writing YA, which is what matters most here. Less stress without sacrificing income.
I would not wish the life of a working writer on my worst enemy.
Okay, that's a lie. I have a vicious streak, and most certainly
would
wish the life of a working writer on my worst enemy. It's on the list, right after "festering boils."
A razor-sharp crap-shoot affair...
Please have a look at
the current eBay auctions
.
You know...I just don't think there's any dignified way to end this entry that doesn't involve getting it over with as soon as possible. So, anything else interesting about yesterday? We had takeout from the Palestinian place— lamb, chicken shawarma, baba ghanoush, and the best baklava I've ever tasted (which is to say the only baklava I've ever actually liked). We streamed an unexpectedly good film, Michael J. Bassett's
Deathwatch
(2002). The title is a little unfortunate, but so is the cover of
The Red Tree
.
Deathwatch
is a weird tale set in the trenches of WWI that succeeds by both subtlety and brute force. Definitely recommended. Later WoW, and Shah and Suraa reached Level 84. Liking Deepholm. It's like what Outland might have been, if Outland had been well designed. Later still, reading. I got to sleep sometime after four ayem.
I have one photo from yesterday's abbreviated outing, Ladd Observatory in the snow: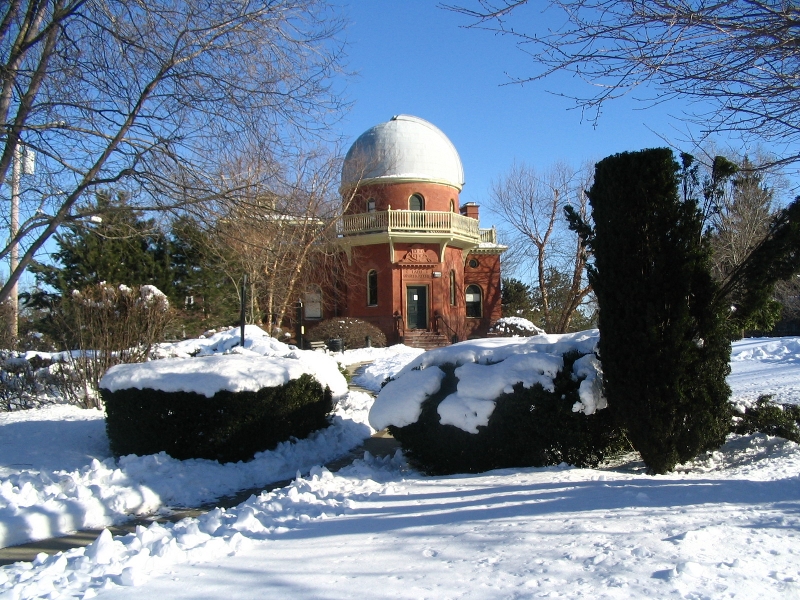 Photograph Copyright © 2011 by Caitlín R. Kiernan